Liberal groups are spending millions this year to engage young people of color and motivate them to vote, after Democrats failed to convince enough of them to go to the polls in 2016. Elevating that effort are two candidates who embody the turnaround Democrats believe their party needs: Stacey Abrams, who is running for governor in Georgia, and Andrew Gillum, who is running for governor in Florida.
Democratic groups, including Priorities USA, BlackPAC, and NextGen America, have found in research and focus groups that young people of color, especially young black Americans, are deeply concerned about the direction of the country but have become skeptical of politics. These voters, they found, are hungry for success in their own lives but broadly ignored the Democratic presidential ticket in 2016.
Democrats are trying to use that research in a voter education campaign to win back young people of color this November and going into 2020. Instead of just insisting that voting is a sacred civic duty, as Democrats have done before, they're now focusing on persuading these voters that voting is a real, tangible thing that can begin to improve their lives now, promoting how they believe Democrats' policies push against adversarial political forces and explaining how government works.
Abrams and Gillum have already proven themselves to be ideal avatars for the persuasion campaign. Not only do they fulfill young people of color's desire to elect younger, black candidates, but they also have shown the ambition to overcome the obstacles young, unlikely black voters have conveyed in liberal focus groups. Neither candidate was initially favored by their party's establishment. They each faced questions about viability that their opponents did not have to answer. Each dismissed fundraising conventional wisdom and won. And each has projected authenticity by campaigning in deeply personal terms.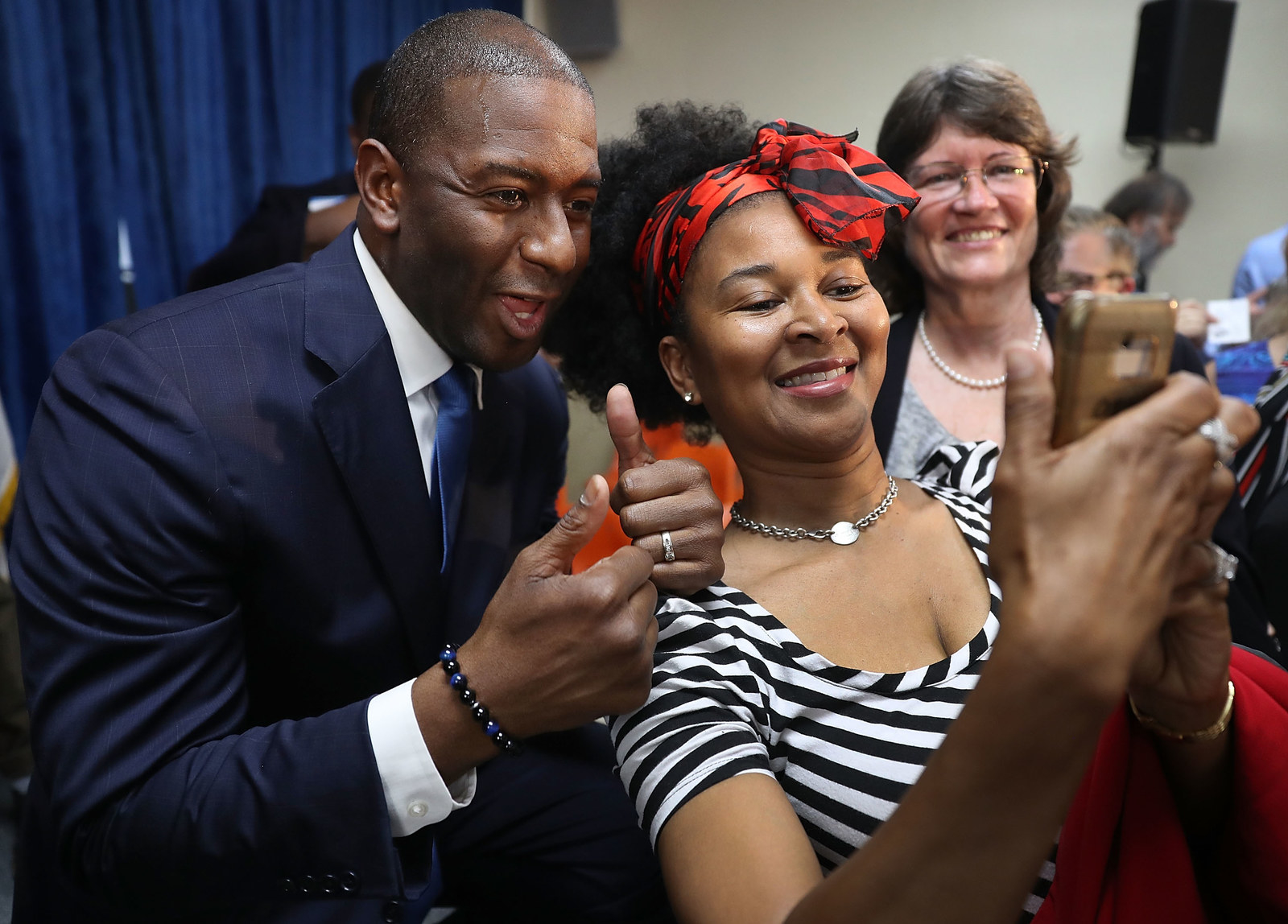 Gillum spoke to dozens of groups of young voters during his primary campaign, including the August night he visited a packed concert venue in Jacksonville. For half of his 15 minutes, he talked about how young Floridians need to make their voices heard at the ballot box. The other half was about how he understood the hard social, economic, and political realities voters experienced, and pledged to fix these problems as governor.
In a recent interview with BuzzFeed News, Gillum said there's no secret sauce for bringing out young voters of color, as much as there is an electorate yearning for authenticity. "One of the things that I have observed in our politics for a long time that I've even had to train myself better on it is that we think we're supposed to reach into the nuance and the policy prescripts of everything," said Gillum, currently the mayor of Tallahassee, "when regular folks just want to [know] that you hear them and that you reflect what they're living."
Abrams has taken a similar approach in Georgia. Democrats in the state lost in the last election cycle by about 200,000 votes. Abrams, who has made her struggle with student loan debt a major talking point, has staked her candidacy on finding those voters, talking to them, and turning them out.
Abrams made her case recently, wearing blue jeans and a flowing blouse, to 20,000 music festival goers at Atlanta's Central Park between the sets of the rappers T.I. and 2 Chainz. She was invited by ONE Musicfest founder Jason Carter, who described Abrams' address as "just something that we had to do." Abrams took the opportunity to say that if people cared about poverty, decriminalizing marijuana, college debt, and gentrification, "I'm the person that's working for you." She added that she only wins, though, if people "show up and show out" at the polls. To that end, Abrams told the audience that she had just spoken to someone who told her a lot of people didn't feel as if they were "political." It was her setup for addressing one of her most important targets: people who don't think their voices matter.
"Here's the thing," Abrams began. "Whether you're political or not, politics is working on you. Because we're either at the table making decisions or we are on the menu."
Eleina Raines, an Atlanta-based educator and Abrams supporter who was there that night, said that while she's always impressed by "Governor Abrams," she was pleased that Abrams didn't address the crowd as "apathetic millennials" but instead as "civically engaged folks who want politicians to meet us where we are."
"She interrupted a homegrown black music festival to ask for our vote, and I also noticed she made a shift from using 'African American' to 'black woman,' which in my book reassures me she won't dilute her message or promises to appease conservative America," Raines said. "She's unapologetically black."
There are some signs that Abrams's attempts are working: Early requests for mail-in ballots have surged relative to recent election seasons.
As much as the Democratic Party needs candidates like Gillum and Abrams to energize the younger generation that makes up the party's base, national Democrats say they are affecting swing voters, too.
What Gillum and Abrams are proving this cycle is that Democrats don't have to decide whether to work to turn out the party's base or try to convince swing voters, said Democratic Governors Association spokesperson Jared Leopold. "Their campaigns are proving that a strong economic message and a compelling personal story can both increase turnout and win over swing voters," Leopold said. (As of this week, Leopold said the DGA has invested $4 million in Florida and $2 million in Georgia. The Democratic activist and donor Steve Phillips this week noted recent estimates aren't nearly enough.)
Part of it is Trump, said Washington Gov. Jay Inslee, the chair of the DGA. "You've got a candidate who is focused on bread and butter issues that affect people's lives, including expanding health care, dealing with climate change, and economic progress," Inslee said of Gillum. "He's really speaking to the real issues, and [Republican Ron] DeSantis wants to be a talk show host and wants to see how many grandiose things he can say about his idol Donald Trump."
Inslee told BuzzFeed News that he's been impressed by Gillum's "reasoned approach" to "real people" in the Sunshine State, which he said was badly "in need of some sunshine."
"Having a candidate that reflects their community helps us make that connection."
Inslee's candidate-focused approach, however, gets at something Democratic groups have identified as a problem. Democrats, with limited investment, have typically approached black voters late in election cycles and have focused messaging specifically on candidates who aren't necessarily familiar to them, rather than on broader societal issues, said Guy Cecil, the executive director of Priorities USA. "What it ignores is a more fundamental challenge of how you connect the power of the vote with the issues that they care about," Cecil said. But Gillum, Abrams, and other young candidates of color change that calculation. "Having a candidate that reflects their community helps us make that connection. We're not relying on a surrogate, we're relying on the candidate, and there's no doubt that's a huge benefit to us."
Symone D. Sanders, the young political commentator and strategist who worked on Priorities USA Action's research last year, said Gillum's and Abrams' success reflects young black Americans' desire for more opportunities to elect younger candidates who look like them. "It's absolutely helpful when the message is powerful, but when they can see people that look like them on the ballot we know that that's added motivation."
Priorities USA Action has made one of the biggest research pushes. As part of the $75 million it's poured into the 2018 midterm election, it teamed up with the online civil rights organization Color of Change to conduct a series of focus groups geared toward gauging the political attitudes of young black voters. The groups were broken into two parts. One segment was a national online survey of nearly 1,000 black Americans under 35 made up of three turnout targets: those who voted in 2016 but tend to drop off in midterm elections; voters who are registered but did not vote in the 2016 election; and those who aren't registered to vote but expressed a willingness to do so in the future. The coalition also conducted a set of focus groups broken down into two age groups in St. Louis and Philadelphia last October.
The study found that the strongest motivational messages were race-specific, especially around issues of police violence — a "ubiquitous, visceral source of fear and anxiety," according to the memo revealing the study's findings. Voters were also motivated by solving problems like mass incarceration and by the Trump administration's reversal of former President Obama's initiatives while in office. In terms of a positive agenda, the study found these voters wanted candidates speaking directly on their plan to lower the cost of health care and on expanding job growth and wage increases. "The agenda item most important to respondents was a candidate's commitment to creating jobs and raising wages, including among minorities and young people, and in disadvantaged neighborhoods," the memo said.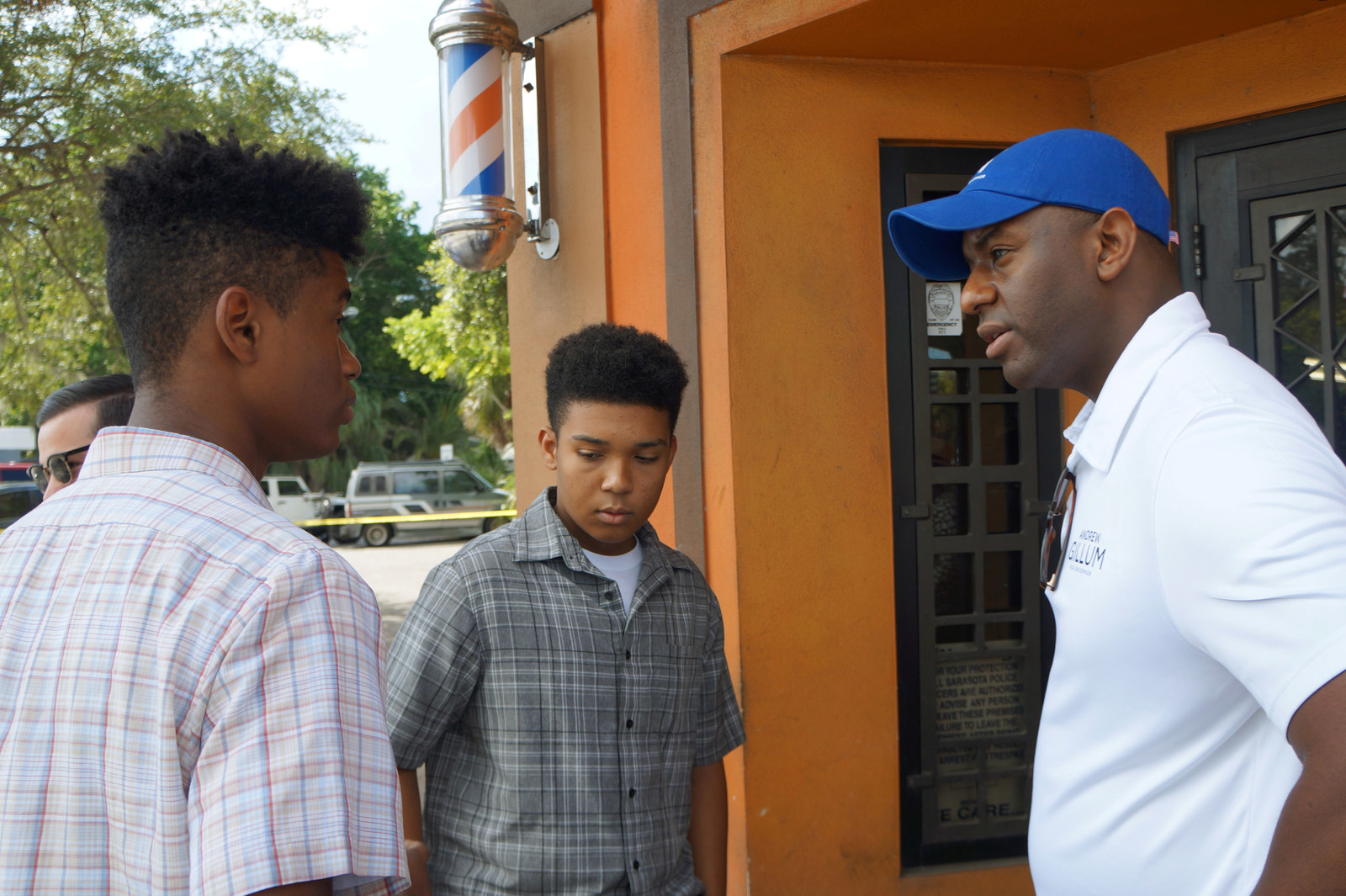 The study found that over the course of the survey, the respondents made "significant positive movement" after essentially hearing a lot about why they shouldn't throw away their vote. Voters who felt that voting was a "very or fairly effective way" to create change increased from 47% to 60% at the end of the survey. Inversely, the percentage of voters who responded saying that voting is not effective went from 24% to 13%. Education was also effective: The study showed that 78% of the participants said they would be more likely to vote once learning, for instance, what district attorneys are responsible for — 43% of those people said they would be "much more" likely to vote.

Once engaged and educated, targets that came into the focus groups rating themselves as a "7" or higher on a zero–10 scale for motivation increased from 25% to 55%. Young black voters went from an average of 4.3 to 6.2 in terms of their personal motivation to vote.

It wasn't hard to see that the thread in everything young black voters were concerned about was the keen sense of powerlessness over political issues. It's why Patrick McHugh, Priorities USA's executive director, told BuzzFeed News that Democrats had a lot of work to do, but that he was optimistic about the road ahead.

"When you go to the hood and communities of color, you hear people say, 'I want to earn a living wage working one job.' Well, back in the '90s, no Democrat would dare say 'living wage' or insist they we have to reform the criminal justice system or focus on immigration," said Marcus Ferrell, a veteran political organizer who worked on Abrams' campaign this cycle. "Expand Medicaid? You just didn't say things like that in Georgia. That was not a good look, but now [Abrams] has the clearance because she knows how many people don't have it. It's good to campaign on it because people want policy proposals that improve people's lives."

In September, Priorities launched a $3.7 million digital ad campaign focused on motivating and mobilizing voters for Gillum and Sen. Bill Nelson, who is in a tight reelection race in Florida. NextGen America, founded by billionaire environmentalist Tom Steyer, launched Black Lives Rising, a $1 million investment on voter contact, digital ads, mailers, and event partnerships with organizations that engage young black Floridians. (The group is also investing in North Carolina, Virginia, Pennsylvania, Michigan, and Wisconsin.)

NextGen's organizing program was created by Jeremiah Chapman with the goals of having organizers talk less and listen more, and combating political hopelessness by pointing to small victories. Chapman said he wants his organizers to speak in their own language and not be afraid to acknowledge tough realities about the frustration of incremental change. ("How do you feel your life is going?" one script in the program says.) Chapman said the program isn't designed to be rigid, but it's about "empowering organizers to be unapologetic and personal in terms of how they're [talking to voters]. They can be their whole selves."

Chapman said that he's witnessed the effectiveness of the program's listening strategy, and that the organizers' training is focused on teaching people to address individuals' concerns. "Hearing someone out is half the battle," he said. "Whoever that person is, as long as they are being affirmed in their experience and the organizer doesn't try to take a moderate or centrist view, but says, 'It is messed up, but here's what we're going to do to quell that.' "

Part of the work, Chapman said, is about getting young people to understand their power. In Florida, Gillum's candidacy is the biggest factor helping that process along. "It's so easy because people are, like, 'Andrew Gillum that's my man, that's my boy!' That could be your homie, cousin, or uncle. He talks about lived experience at an HBCU, that very real version of life, and what they're used to people feel familiar.

"He's someone that resonates. Not this stuffy version of politics that young people got used to."

<!-comments-button-->