For the first time, a woman has given birth after she underwent the transplant of a uterus from a deceased donor.
The baby, a girl, was born on Dec. 15, 2017, in Brazil, according to a report published this week in the medical journal the Lancet.
Uterine transplants aren't new. However, it wasn't clear that a transplanted uterus from a deceased donor could successfully be used to give birth.
The first baby born after a uterine transplant was in 2013 in Sweden. However, in that case, the woman received a uterus from a living donor. Since then, 39 of these transplant procedures have been performed, and 11 babies have been born.
An additional 10 transplants from deceased donors have been performed in the US, Czech Republic, and Turkey, although no live births have occurred until now. A woman in Turkey became pregnant after a transplant from a deceased donor, but she later miscarried.
The birth is "opening a path to healthy pregnancy for all women with uterine factor infertility, without need of living donors or live donor surgery," concluded the medical team, which was led by Dr. Dani Ejzenberg of the Hospital das Clínicas, at the University of São Paulo School of Medicine in Brazil.
"The numbers of people willing and committed to donate organs upon their own deaths are far larger than those of live donors, offering a much wider potential donor population," Ejzenberg said in a statement released by the Lancet.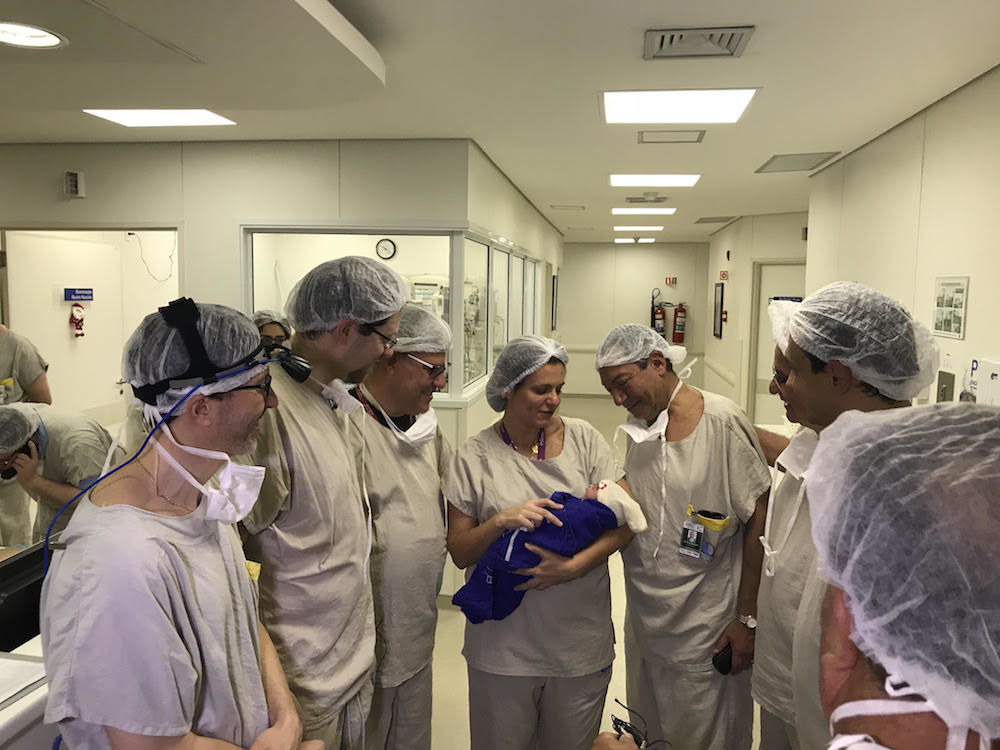 In the most recent case, the woman had Mayer-Rokitansky-Küster-Hauser syndrome, which is a birth defect that results in a missing uterus. About 1 in 4,500 newborn girls have this condition, although it's often not diagnosed until puberty, when a lack of menstruation leads to testing.
The woman underwent the transplant in September 2016 with a uterus from a 45-year-old donor who died of a stroke. The donor had previously given birth three times.
Four months before the procedure, the transplant recipient underwent an in vitro fertilization cycle in which eggs were collected from her ovaries and fertilized with sperm, and the resulting embryos frozen.
One of the embryos was transferred into the uterus seven months after the transplant procedure, which resulted in a pregnancy. The healthy baby girl was born by cesarean section at close to 36 weeks, weighing about 5.6 pounds. The transplanted uterus was removed at the time of the birth.
"I think one of the key things that make uterine transplants unique is that it's meant to be a temporary transplant," said Dr. Rebecca Flyckt, the director of fertility preservation at the Cleveland Clinic, who was not involved in the study.
While a liver or a kidney transplant is meant to hopefully last for the life of the recipient, a uterus can be transplanted for as long as necessary, and then removed, she said. After that, women can stop taking immune system-suppressing medications, which keep the transplant from being rejected.
"Mainly they have side effects for the woman taking them," said Flyckt. "They can affect your kidneys, among other organs, and have bothersome side effects."
Based on the large number of transplant patients who've given birth, the medications seem to be safe for pregnancy.
"There have been many, many babies born after exposure to those medications that can guide us to knowing that they are safe," she said.
There are several other programs that are working on uterine transplants using deceased donors, including Cleveland Clinic, said Flyckt, who is the principal investigator of the clinical trial in uterus transplants being conducted there.

There are other uterine transplant programs around the world and in the US, she said, including at Baylor Scott & White Health in Dallas, Texas, and the University of Pennsylvania in Philadelphia.

The Cleveland Clinic has performed two uterine transplants with organs from a deceased donor. The first, in 2016, had to be removed 12 days after surgery due to an infection. The second was in December 2017, and the woman is doing well, Flyckt said.

"She's moving through our protocol and doing very, very well," she added.

"We really are pretty excited about this because it shows that this is a good model," she said. "This is the first baby from a deceased donor, all of the others — there's over 10 babies from uterus transplants — and every other one was from a living donor."

The birth offers hope to women who have infertility related to the uterus.

"There really is a profound sense of sadness and loss in women with those conditions," she said, adding that as many as 1 in 500 women may have uterine factor infertility.

In the past, women with Mayer-Rokitansky-Küster-Hauser syndrome could only have a child if they adopted, used a surrogate to carry a child, or had a uterine transplant from a living donor.

It also means that friends or family members don't have to go through a risky surgery to donate an organ to a loved one, she said.

"This is further support for an option that doesn't put a donor at risk," she said.

While the procedure is experimental, the researchers hope the cost might one day be close to a kidney transplant, or about $80,000, Flyckt said. That's comparable to the cost of a using a pregnancy surrogate, she said, which can be $80,000 to $120,000.

<!-comments-button-->