When the 29-year-old US Army recruit finally received the results of her security screening, a year after the exhaustive eight-hour counterintelligence interview all foreign-born soldiers must take and almost three years since her enlistment, she laughed in disbelief.
Under "Loyalty," she had been flagged for comments she made about following a series of lawsuits filed on behalf of immigrant recruits like her who'd enlisted in the US military with a promised path to citizenship only to find themselves mired in years of bureaucratic limbo and at risk of deportation while they wait.
"I was shocked seeing it in under 'loyalty issues.' How is this disloyal to the United States, or dishonest? Of course I follow these lawsuits, these claims have merit," she told BuzzFeed News, speaking on the condition of anonymity for fear of endangering her family in her home country. "This really smells like retaliation. I felt like the screener was thinking 'hell, yeah, I can use that against you.'"
Thousands of young immigrants recruited for their special language and medical skills have had their lives put on hold by additional layers of background checks that the US military imposed in 2016 over supposed national security concerns. The long delays have prevented them from reporting for basic training, deploying, or applying for the citizenship they were promised.
Now, many of them fear they're being retaliated against for expressing interest in their legal options or voicing their frustration at the Defense Department's shifting rules, which require thorough reviews of personal finances, travel and family connections, as well as FBI and CIA screenings and interviews.
It is in these counterintelligence interviews — which are meant to screen whether a foreign-born recruit presents a national security threat, such as having ties to terrorist groups or foreign intelligence agencies — that interest in their legal options has been flagged as a risk. In the write-ups, the subjects are referred to in capital letters.
"SHE follows the lawsuit by the MAVNIs and SHE feels like the MAVNIs are being harmed because they are described as a threat to National Security," reads the counterintelligence assessment report shared with BuzzFeed News, using the shorthand for the Military Accessions Vital to the National Interest program, which has naturalized nearly 11,000 foreign-born service members since 2009.
The reports include a section labeled "Issues Discovered," which lists seven categories: Financial, Loyalty, Character, Criminal, Honesty, Financial Ties, and Other. The screener then checks one of three boxes, indicating whether the recruit presents a major, moderate, or minor risk based on those factors.
The "Loyalty" section also noted that "throughout the interview process SHE said due to […] delays with the MAVNI process, she feels discriminated against and denied her citizenship."
The recruit enlisted in the US Army in December 2015 and had already met her unit and her platoon leader, who asked what he could do to move the process along. She told BuzzFeed News that legal protections are one of the things she and her fellow immigrant enlistees most admire about the United States. It has been surreal to shift from fearing retaliation from their home countries for joining the US military to fearing retaliation from the US for considering their legal options, she said.
The report on another recruit, a nurse originally from India who enlisted in the US Army, listed her interest in MAVNI-related Facebook pages as one of the reasons she "failed" her counterintelligence screening.
"MAVNI was a member of the MAVNI Legal Facebook page," the counterintelligence report notes, referring to the recruit by the acronym for the program. "SHE frequently visited the site for the latest news about the MAVNI program. MAVNI denied receiving any assistance from the site or any of its members."
The Facebook group, which is open only to licensed lawyers and recruits, was created to share information about the complicated legal tangle and the immigration situations caused by the delays, as well as updates about litigation. The recruiting program was halted in 2016 over national security concerns and then shuttered, but thousands who had already signed enlistment contracts remained in the pipeline, slated for extra vetting that the Pentagon has said it does not have the manpower to do.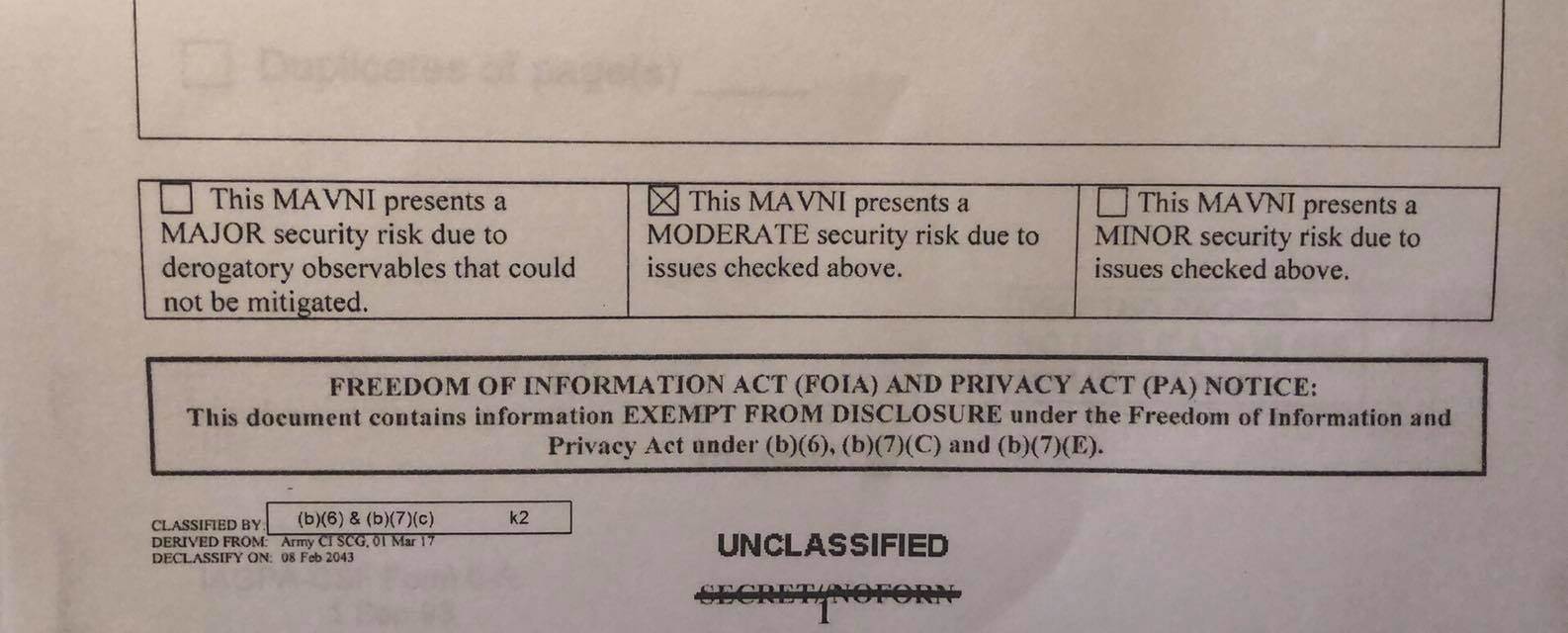 Recent developments have stoked interest, and hope, in the legal battle. After the delays caused by new screenings led to some recruits being discharged or having their contracts canceled, a series of legal complaints led the Army to reverse the discharges of more than 30 enlistees.

More than a dozen immigrant recruits interviewed by BuzzFeed News in the last year mentioned the MAVNI Facebook groups as their main source of information, given that recruiters and the US military often provide contradictory and confusing details. These recruits had no idea that mentioning these things during interviews would be considered "disloyal," said Margaret Stock, a retired Army officer and immigration attorney who helped develop the program when she worked for the Defense Department.

"She didn't think it would be held against her," she said. "She thought it proved that she was trying to stay in the Army and be a good soldier. The … screener basically twisted her words against her."

Ironically, it has often been the US military itself, through US Army Judge Advocate Generals (JAGs), who referred many of the recruits to her for lawsuits, Stock said.

"They did not see any other way to resolve the problem," she said. "JAGs themselves cannot sue the government but they thought [recruits'] rights were being violated."

Now the threat of being branded "disloyal" has scared some immigrant recruits from discussing or joining the lawsuits, or posting in online groups. Some have been told by recruiters that they will get in trouble for suing the Defense Department, or raise suspicions that risk further delaying their background checks.

"They're calling them a national security threat for exercising their rights," Stock said. "It's a real concern."

The fear of retaliation related to lawsuits grew this summer when the Washington Post reported that a military intelligence unit had asked Army Reserve attorneys to find admissions of potential crimes in recruits' security screening packets. Their justification for the extra scrutiny, spelled out in an email, said immigrant recruits were "currently suing the federal government claiming they were wrongfully discharged from the Army."

Pentagon officials declined to comment for this story, saying they could not discuss individual cases.

While lawyers have assured immigrant recruits that it's illegal for anyone in the military to retaliate against a service member who sues the Defense Department, it hasn't made the nervousness go away. Some MAVNI recruits said they have become anxious when asked on background checks whether they're involved in any litigation, even though attorneys explained that they need to know about criminal and family law cases and can't retaliate against them for being involved in a lawsuit against the Pentagon.

Others in Facebook groups have jokingly — and some, not so jokingly — asked if it was necessary for the lawsuits to be filed against Defense Secretary Jim Mattis himself, with lawyers explaining that as the current Pentagon chief, his name had to be on there.

It is not clear how many recruits have been flagged for telling screeners about their interest in the MAVNI lawsuits. For those who have been designated as a "major risk," the factors usually include foreign family connections or having assets overseas.

Critics of how the Pentagon handles the vetting of immigrant recruits say that's a classic misunderstanding of basic immigration issues. For example, foreign ties are required for students who receive F-1 visas, who often are supported by family in their home country. Others have been flagged for "honesty" or "character" for routine phone calls to their parents, or for supplying the required information but requesting that certain family members not be contacted because they live in a country where receiving calls from the US military could put them in danger.

Attorneys have sought to bring several class-action lawsuits that automatically include immigrant recruits who fall into certain categories, such as Army reservists whose naturalizations have been stalled, or recruits who've been discharged due to alleged "background check failures."

One class-action lawsuit filed in Washington in August said that immigrant soldiers were being discharged "not because of any misconduct by plaintiffs, but rather because the Army either did not want to expend the resources necessary to complete the background investigations, or they could not do so."

This has led to cases where some who are already serving are afraid to apply for their citizenship for fear of automatically becoming involved in the litigation and facing retaliation or having their military careers stall, one MAVNI recruit told BuzzFeed News.

<!-comments-button-->