In his campaign stops in recent weeks, former president Barack Obama makes a point with an incredulous, disbelieving affect: Somehow, Republicans have gotten away with the unofficial title as champion of the "little guy."
His presentation in these settings is about exposing that narrative as a broad Republican con, an argument that contextualizes and celebrates his administration's accomplishments and lays out what's at stake in these elections. He did that on Friday afternoon in Florida with Democratic gubernatorial candidate Andrew Gillum in a frenzied setting in front of over 4,000 supporters, according to organizers. The event crystallized the significance of Gillum's candidacy, whose surprise victory in the August primary is owed largely to the notion that Gillum's humble beginnings as the son of a school bus driver and construction laborer actually embody what it means to be the little guy.
That narrative has electrified Florida Democrats, and Obama's appearance was a culmination of sorts for Gillum's 20-plus-month campaign journey. "My mama is beside herself," Gillum told BuzzFeed News before the rally.
Gillum introduced Obama as "our forever president"; Obama's official blessing came in the form of last month's endorsement. On Friday he said that Gillum was one of the most "gifted" and "inspiring" candidates of this cycle. Their greeting — a perfectly executed dap — set the stage for a momentous occasion that Democrats could have only imagined months ago.
The tension grew thicker from there, a ominous reminder that Trump won this state in 2016. Obama could barely get through his speech without interruptions from several opponents in the audience, which induced chants of "bring it home" — Gillum's campaign slogan — that Obama was happy let linger. The former president said he never understood "why if you support the other guy, you come to my event," to laughter. But he seemed to go off script even further as two hecklers, both white men, were being led out of the building — he said that the rabble-rousing happening in the room was a symptom of people realizing they were beginning to lose their power and privilege.
"Where was I?"
He was at the part where he talks about the United States being at a crossroads, and how the character of the country is on the ballot. Obama's speech is a story. It's a plainspoken review of the last few years that emphasizes how false narratives can calcify and go unchallenged when people abdicate their civic duty and their vote.
Democrats, many of whom told BuzzFeed News that they had already voted, left the event energized. Obama's resonance cannot be underestimated anywhere, but perhaps especially here in Florida, a state he carried in 2008 and 2012 by the slimmest of margins, largely by driving up turnout among black Floridians and young people, a feat made sweeter after the John McCain campaign's 2008 assertion that their opponent couldn't win here.
And then there is Obama's popularity with black voters, which Democrats are depending on to cause a strong turnout here and in other states where he's campaigned recently, like Nevada and Wisconsin. Gillum told BuzzFeed News before the speech that he thought Obama's visit would help drive turnout among those voters, and in recent days, Gillum has been campaigning to leave nothing to chance.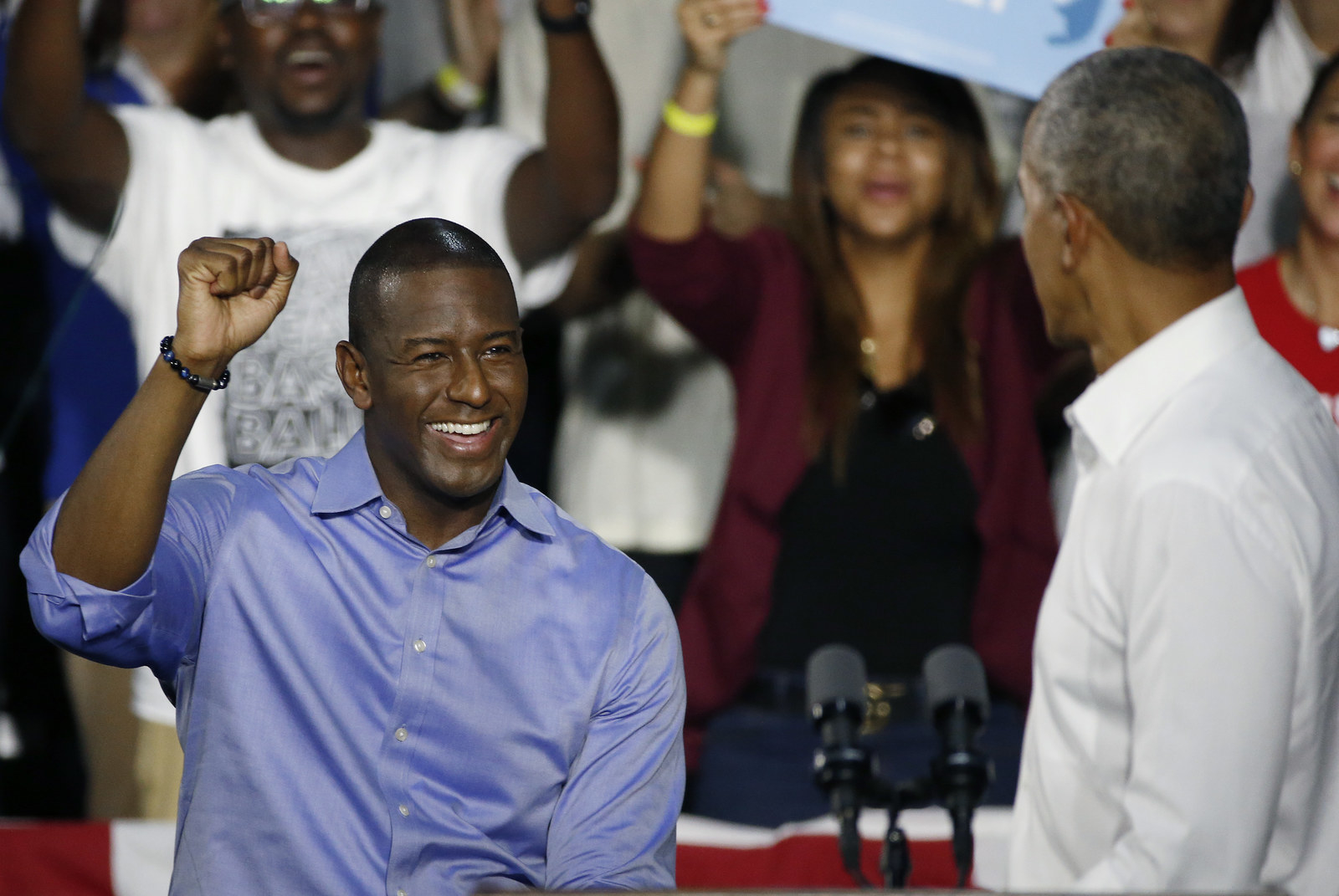 On Thursday night, Gillum's campaign applied the maxim that "you have to meet voters where they are" literally, when Gillum and his campaign staffers pulled up to a high school football game featuring one of the top teams in the country. It was as unique a scene as you can see in campaign politics. Gillum sauntered onto the field and got cheers from the all-black crowd. The game seemed to pause when someone screamed, "LET'S GO GILLIAM!" He greeted cheerleaders, coaches, and players, and got a standing ovation in an appearance that felt like a victory lap. At one point, the PA announcer said, "Get off your feet, get out your seat, and go vote!"

Gillum's campaign has worked to excite the Democratic Party's base, and to expand the electorate through voter registration and an overt pitch promoting Gillum's blackness, youth, and relatability. But the campaign, much like Obama's operations, has also spent a considerable amount of time persuading disillusioned Republicans and independents.

That persuasion is one of the central components of Gillum's final argument. He said in an interview before the rally that he believed the Pittsburgh massacre and attempted assassinations of President Donald Trump's political opponents was having an impact on people's psyches to the point that he believed independents, Republican women, and the GOP base would ask themselves difficult questions about the direction of the country. (One former conservative Florida lawmaker, David Jolly, declared that he had voted for Gillum, citing issues with Republican Ron DeSantis. Obama alluded to Jolly's vote in his speech Friday.) Gillum expounds often on the fact that his campaign has visited red counties in an effort to peel away votes Democrats haven't typically competed for. "I want them to know that I want to be their governor, too," he said Friday.

Gillum has been talking more about how he wants to be a governor who reaches out to people of all stripes and political persuasions with a positive vision for the future. What DeSantis and Trump have done, Gillum has said, is no longer acceptable in Florida.

Gillum's candidacy has certainly helped Sen. Bill Nelson, who is up for reelection against Gov. Rick Scott and introduced the mayor at Friday's rally. But there are a slate of down-ballot Democrats Gillum's candidacy is going to help, too, a phenomenon being played out right now in Georgia and Texas, with the candidacies of Stacey Abrams and Beto O'Rourke, respectively.

Obama in his campaign speeches decries that Republicans pretend to stand up for the little guys while "robbing you blind," by giving "people like him" tax cuts and attempting to take away health care protections for preexisting conditions, even as they campaign on keeping those protections in place in Wisconsin, Nevada, Arizona, and especially Florida.

Gillum is closing his campaign by making himself the little guy. And it didn't seem like that part of his personal biography was very far from his mind as he introduced the former president of the United States on Friday and encouraged his voters to bring it home. "We've come a long way from Richmond Heights," he said.

<!-comments-button-->