MINNEAPOLIS — In the middle of a whirling snowstorm on the bank of the Mississippi River, Amy Klobuchar, a Minnesota senator with a reputation for bipartisanship, announced that she is running for president.
Klobuchar has cast herself as a moderate voice of the Midwest, a once-reliably Democratic region where the party struggled in 2016 — losing Michigan and Wisconsin to Trump, and eking out only a narrow 1.5-point victory in Minnesota. In the midterms last year, Klobuchar won re-election in Minnesota by almost 25 points.
Klobuchar's message of unity and bipartisanship could cut a contrast in a Democratic primary field that is likely to filled with candidates steering to the left and promising to fight President Donald Trump.
"I'm asking you to join us on this campaign," Klobuchar told a bundled-up crowd in Minneapolis wearing knit caps coated in an inch of snow. "It's a homegrown one. I don't have a political machine. I don't come from money. But what I do have is this: I have grit."
She spoke literally of building bridges, recalling the collapse of Minneapolis' I-35W bridge in 2007, which killed 13 people, and the rebuilding that followed, as well as the Mississippi River as a symbol of the heartland and a connector of the country.
The crowd on Minneapolis' Boom Island cheered just as loudly for Klobuchar's history of reaching across the aisle and their lieutenant governor's promises of "civility" and "decency" as they did for Klobuchar's line condemning "foreign policy by tweet." A man who shouted "Lock him up!" during Klobuchar's speech was shushed by the woman next to him.
"She is the good, calm, sensible, moderate voice that can get the country back on track," said Mary Robinson, of South Minneapolis, who had brought her daughter to the event.
Klobuchar focused a chunk of her speech on digital issues that she has worked on as a senator including expanding rural broadband internet and problems with big tech companies — an issue few other candidates have touched on as a cornerstone of their campaigns.
"For too long the big tech companies have been telling you, 'Don't worry! We've got your back!' while your identities are being stolen and your data is mined," Klobuchar said.
In recent weeks, Klobuchar's broad popularity and reputation for "Minnesota nice" has been complicated by her reputation as a difficult boss. A BuzzFeed News story Friday reported that Klobuchar had run an office ruled by fear and anger, citing interviews. In emails viewed by BuzzFeed News, Klobuchar berated staffers over minor mistakes, misunderstandings, and misplaced commas. HuffPost reported that at least three people had withdrawn their names for running Klobuchar's presidential campaign.
Klobuchar addressed the stories to press after her speech on Sunday. "Yes, I can be tough, and yes, I can push people — I know that," she said. "But in the end there are so many great stories of our staff that have been with me for years and have gone on to do incredible things. I have high expectations for myself, I have high expectations for people who work for me, but I have high expectations for this country."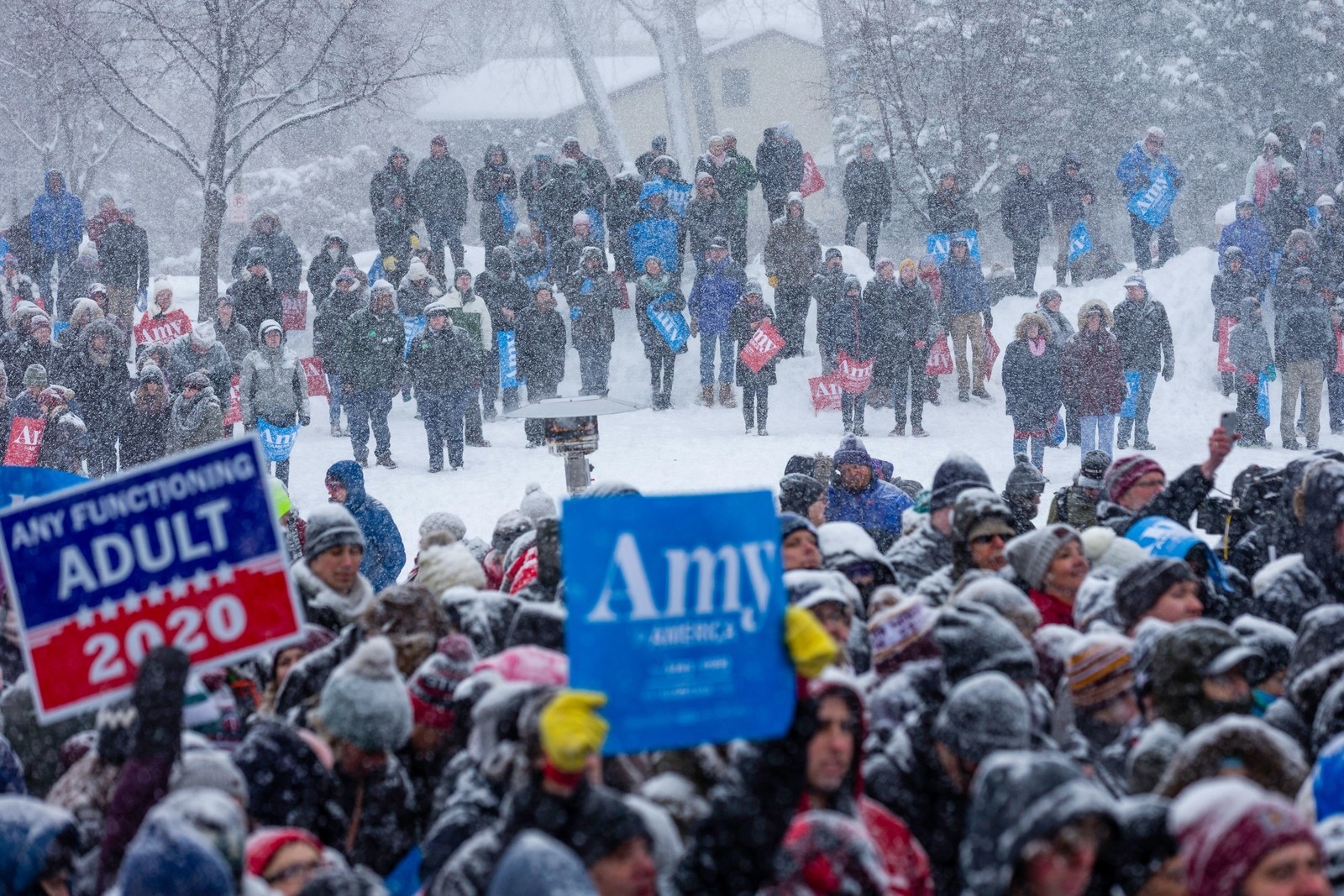 In the Senate, she has distanced herself from some positions embraced by prominent progressive Democrats, declining to endorse a single-payer Medicare for All bill that some have called a litmus test for progressive Democrats, and defending Immigrations and Customs Enforcement, or ICE, from calls to entirely abolish the agency. She has focused instead on issues like regulating the tech industry and lowering prescription drug costs.

As president, Klobuchar said Sunday, "I will look you in the eye. I will tell you what I think. I will focus on getting things done. That's what I've done my whole life."

In Minnesota, Klobuchar has long held a reputation for forming strong relationships with the state's rural voters — many of whom broke from the Democratic party to vote for Trump in the 2016 election. She spoke in her speech of her grandfather, a miner in Minnesota's historically Democratic Iron Range.

Voters cited Klobuchar's performance in the confirmation hearings for Justice Brett Kavanaugh, where her even-handed questioning of Kavanaugh raised her national profile considerably. After she'd spoken of her experiences with an alcoholic father, Klobuchar asked Kavanaugh if he had ever blacked out from drinking. Kavanaugh challenged, "I don't know, have you?" He later apologized to Klobuchar.

Introducing Klobuchar Sunday, Gov. Tim Walz spoke of turning on the television to watch Klobuchar questioning Kavanaugh on the Senate Judiciary Committee. "I was so damn proud," Walz told the cheering crowd.

"She really impressed me through the Kavanaugh hearings. She was spot on, right through the whole thing," said Nancy Wallace, of Wayzata.

"It was her calmness," added her friend Michelle Stewart.

People in the crowd Sunday said they had braved the snowstorm out of a fierce loyalty to Klobuchar and Minnesota — regardless of whether they thought she could win the presidency.

Robinson, of South Minneapolis, said she didn't have any illusions about Klobuchar's chances in a crowded, competitive Democratic presidential field. Asked if she thought Klobuchar had a chance, she said, "No. But we're going to do what we can."

"When you watch all of the national news, no, they're saying she doesn't have a very good chance compared to all the people on the coasts that could fundraise and get recognition," Robinson said. "But maybe her Midwest ties will help her out, so we're hoping for the best. And we'll do what we can."

<!-comments-button-->