Meet Bear 409, aka Beadnose, the winner of Katmai National Park's 2018 Fat Bear Week. She's the thiccest queen, the best eater of salmon, and a winter body inspiration to us all.
Beadnose defeated Bear 747 to be crowned the chunkiest and funkiest in an online poll administered by the park. She also won the first-ever contest in 2015, becoming the only two-time fattest bear at Katmai.
"Her radiant rolls were deemed by the voting public to be this year's most fabulous flab," park staff wrote on Facebook.
Why is it good to be a fat bear, you may ask? The larger the bear, the bigger its food reserves for hibernation, which starts in November and can last up to half a year. More body weight means greater chances of surviving the winter.
Katmai's brown bears have been eating salmon nonstop in preparation for hibernation since July, according to park spokesperson Andrew LaValle, ballooning from roughly 600 pounds to 1,100 in just four months. They'll lose all of it during winter.
Beadnose may have had such a good year of eating because she dumped her two cubs earlier this year, LaValle said — a typical thing mother bears do when their cubs reach maturity around age 2 and a half. Beadnose herself is in her early twenties, and the park's oldest recorded bear was 29, he said.
"She's free to keep all the salmon for herself," he said.
Katmai National Park, located at the base of the Alaskan peninsula and about the size of Yosemite and Yellowstone combined, is home to more than 2,200 brown bears. It's hosted Fat Bear Week, a weeklong online poll in October, every year since 2015 "to determine which gluttonous giant sits atop the brown bear oligarchy of obesity," according to a press release.
(LaValle said the contest doesn't affect how park staff treat the bears. Katmai has a policy of nonintervention toward the animals, interacting with them as little as possible, even if a bear is dying.)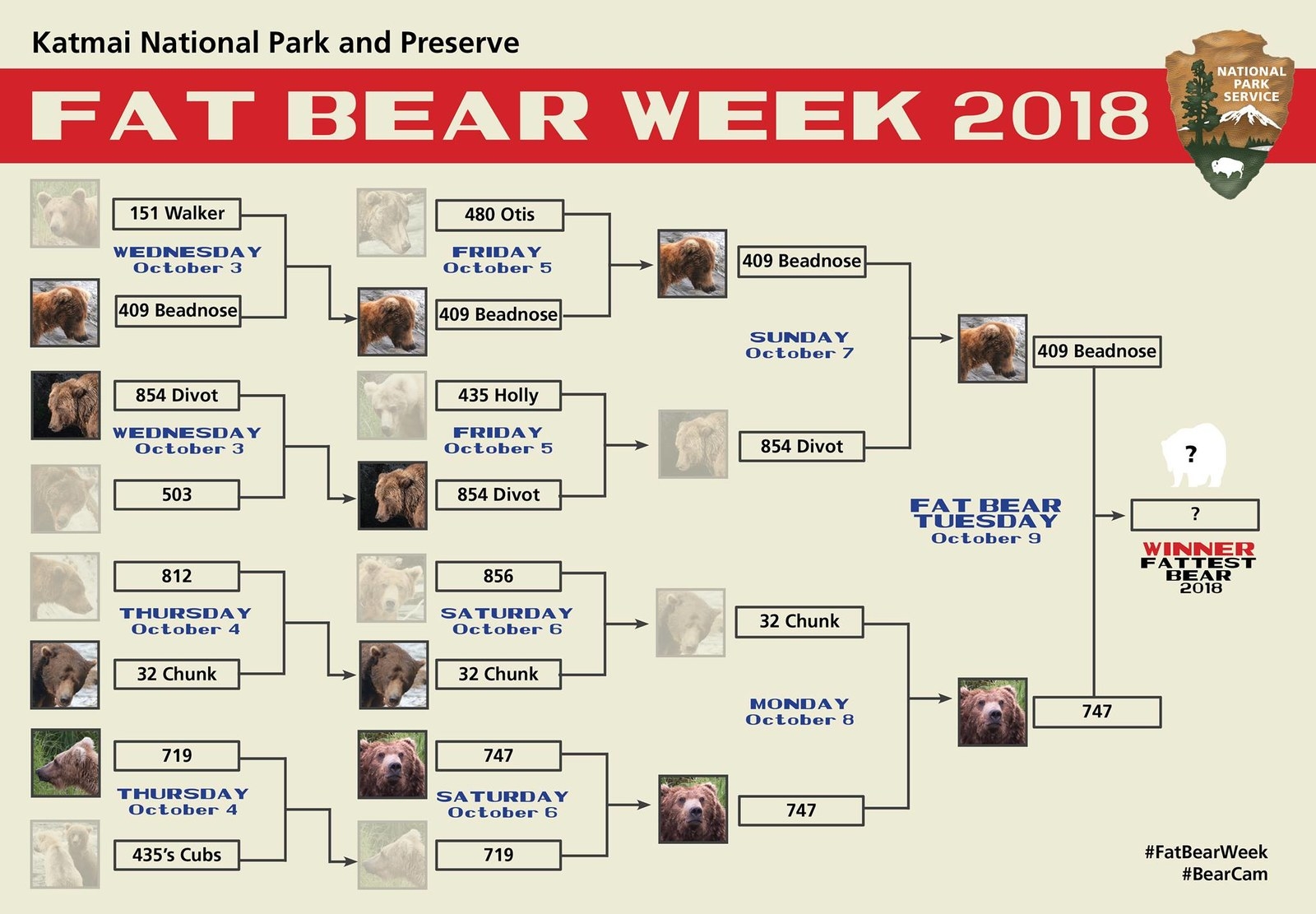 The voting for Fat Bear Week, structured like a March Madness bracket, pits the big bears against each other in competition for fan votes on Facebook based on before and after photos rather than their actual weight, which park rangers don't measure.
"We don't put the bears on bathroom scales. It's which one looks the fattest," LaValle said, "which could mean whether their belly clears the ground, the number of rolls on their necks — people even point to the shapes of their rear ends."
The contest grew from conversations rangers would have with each other when comparing photos of bears at the beginning and end of their feeding season.

Bear 480, nicknamed Otis, won Fattest Bear in 2017, but Beadnose defeated him in the second round of the competition before advancing to the finals. The park picks the names from online comments, according to LaValle, and cull the photos from a mix of ones taken by park staff and visitors.
The contest lit up social media more so than ever before, LaValle said, particularly a GIF of Beadnose's transformation.
The park used GIFs to display the bears' transformation for the first time this year, which LaValle thinks played a role in the contest's success. Katmai's Twitter and Facebook accounts each gained more than 10,000 followers, growing its social media footprint by 25% in just a week.
Lots of people were craving something lighthearted during the bruising news cycle of the Kavanaugh hearings.
People were relating hard to Beadnose.
"I did NOT authorize the use of these candid photos!"
She's an absolute unit, to be sure.
Not every bear in Katmai is part of Fat Bear Week. The competitors are bears frequently seen on the park's bear cameras, which film the bears when they gather in high concentration near the Brooks River to feed on the nearly 62 million sockeye salmon that swim through it.

LaValle said that the point of Fat Bear Week is more than fun.

"It's entertaining and it underscores the point that they're not eating for gluttony, they're eating to survive. It's education in a disguise. We're tricking you into learning."

<!-comments-button-->