u2014meggiejude4
","thumbnail_crop":{"height":"1500","width":"1500","x_offset":"0","y_offset":"0"},"thumbnail_src":"https://img.buzzfeed.com/buzzfeed-static/static/2018-10/29/7/asset/buzzfeed-prod-web-05/sub-buzz-16297-1540812012-1.jpg?crop=1500:1500;0,0"},{"index":1,"number":2,"has_caption":false,"image_type":"jpg","image_src":"https://img.buzzfeed.com/buzzfeed-static/static/2018-10/29/8/asset/buzzfeed-prod-web-01/sub-buzz-13669-1540815137-2.jpg","images":{"mobile":{"height":"792","url":"https://img.buzzfeed.com/buzzfeed-static/static/2018-10/29/8/asset/buzzfeed-prod-web-01/sub-buzz-13669-1540815137-2.jpg?resize=990:792","width":"990"},"original":{"height":"1188","url":"https://img.buzzfeed.com/buzzfeed-static/static/2018-10/29/8/asset/buzzfeed-prod-web-01/sub-buzz-13669-1540815137-2.jpg","width":"1485"},"standard":{"height":"500","url":"https://img.buzzfeed.com/buzzfeed-static/static/2018-10/29/8/asset/buzzfeed-prod-web-01/sub-buzz-13669-1540815137-2.jpg?resize=625:500","width":"625"},"wide":{"height":"792","url":"https://img.buzzfeed.com/buzzfeed-static/static/2018-10/29/8/asset/buzzfeed-prod-web-01/sub-buzz-13669-1540815137-2.jpg?resize=990:792","width":"990"},"idx":1,"original_src":"https://img.buzzfeed.com/buzzfeed-static/static/2018-10/29/8/asset/buzzfeed-prod-web-01/sub-buzz-13669-1540815137-2.jpg","image_src":"https://img.buzzfeed.com/buzzfeed-static/static/2018-10/29/8/asset/buzzfeed-prod-web-01/sub-buzz-13669-1540815137-2.jpg","nojs_src":"https://img.buzzfeed.com/buzzfeed-static/static/2018-10/29/8/asset/buzzfeed-prod-web-01/sub-buzz-13669-1540815137-2.jpg?output-quality=auto&output-format=auto&downsize=360%3A%2A"},"original_src":"https://img.buzzfeed.com/buzzfeed-static/static/2018-10/29/8/asset/buzzfeed-prod-web-01/sub-buzz-13669-1540815137-2.jpg","width":1485,"height":1188,"attribution":"","id":"121882076","external_link_text":null,"external_link_url":null,"has_external_link":false,"description":"","thumbnail_crop":{"height":"1188","width":"1485","x_offset":"0","y_offset":"0"},"thumbnail_src":"https://img.buzzfeed.com/buzzfeed-static/static/2018-10/29/8/asset/buzzfeed-prod-web-01/sub-buzz-13669-1540815137-2.jpg?crop=1485:1188;0,0"}], "id": 121881894, "bfa": {"e":"{idx:0,subbuzzId:121881894}"} }
12.
Lotus biscoff spread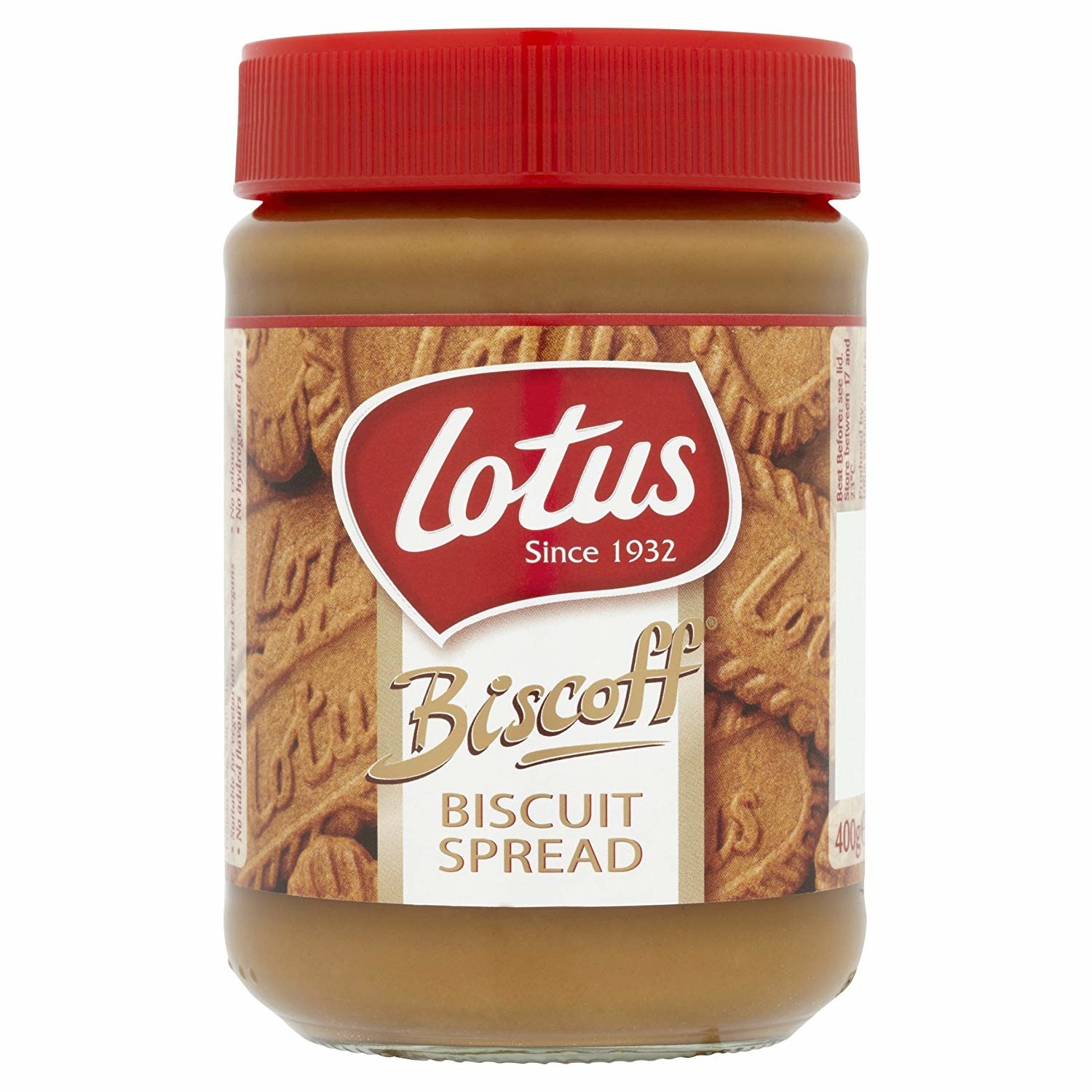 13.
Tesco Free From cheese nachos
14.
Unreal chocolate and almond butter cups
Want to be featured in future posts like this? Make sure to follow the BuzzFeed Community on Facebook and Twitter!
Looking for a bit of vegan decadence? Check out Ben & Jerry's new dairy-free ice cream flavours: it's the Ben & Jerry's you know and love, but without the cow!